Home Asia Pacific Oceania Australia


Honour for humble man
Star News Group, June 10, 2008
Braybrook, Australia -- BRAYBROOK'S Venerable Thich Phuoc Tan has been recognised in the Queen's Birthday Honours with a Medal of the Order of Australia.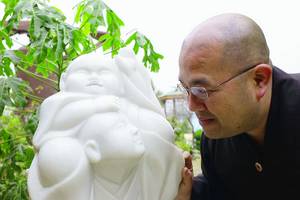 << Honour … The Venerable Thich Phuoc Tan is being awarded the Medal of the Order of Australia. Picture: MATHIAS HENG.
The humble director and abbot of Braybrook's Quang Minh Temple was yesterday acknowledged for his services to Buddhist and Vietnamese communities and for lending his support to a range of charities.
True to form, the 37-year-old believed the honour should be shared.
"I feel the work we have done here has been acknowledged and the honour should be received by my community as well because without them I could not have this honour anyway," he said.
The medal is a far cry from Abbot Phuoc Tan's introduction to the Australian way of life.
In 1980, an 11-year-old Phuoc Tan fled Saigon with his family and made it to Australia the following year as a refugee who could not speak English.