Home Asia Pacific Oceania Australia


Monks offer insight into Buddhist lifestyle
by HOWARD JONES, The Border Mail, May 21, 2009
Albury, Australia -- TIBETAN monk Geshe Sonam Thargye smiled in Albury yesterday as he recalled fleeing his country across the Himalayas, just as his leader, the Dalai Lama, had done years before.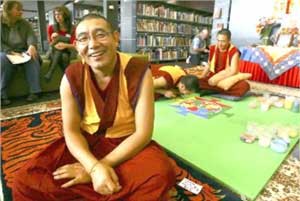 First he had to walk for 11 days from his home village to Lhasa, then 23 days to reach the safety of Nepal.
Twenty-nine years after that epic journey, when he was 19, Geshe Sonam is in Albury with four younger monks for a sand mandala program at the Albury library-museum.
Visitors can hear them chanting this morning from 10am to 10.30pm and they will then work for more than six hours on their sand mandala, defined as an imagined place contemplated during meditation.
At 5.30pm Geshe Sonam will give a talk on "achieving happiness" and will discuss solutions from a Buddhist perspective.
The monks will be at the museum until Sunday, partly to raise funds for struggling Tibetans in India and also to support the Buddhist Centre at Anglesea, Melbourne.
Geshe Sonam has headed the centre since 1998 but the other monks are Tibetans who are on a six-month tour.