Home Asia Pacific Oceania Australia


Box Hill blessed by Buddhist spirits
WHite Horse Leader, 21 Sep 2010
Box Hill, Australia -- BOX Hill was blessed recently as a Tibetan master trekked to the town hall.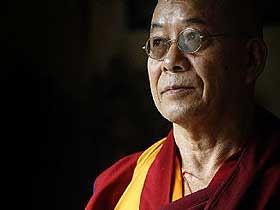 << Lama Khenpo Pema Sherab Rinpoche. Picture Eugene Hyland
Lama Khenpo Pema Sherab Rinpoche taught The Peaceful and Wrathful Deities from Karma Lingpa or The Tibetan Book Of The Dead.
The reading explores the period between the moment of death and the next life.
Buddhism student Lainie Smallwood said it was only the second time it was performed in the western world.
"The master gives the blessing for the students to practice a particular cycle of teaching," she said.
"It then plants the seeds of enlightenment."
Lotus Speech Australia is a community of Buddhist practitioners who follow the Tibetan Nyingma tradition teachings.
Lainie said the religion changed her life.
"It encourages you to be more compassionate, tolerant, you develop wisdom and it explains lots of things about life."
For more information visit www.lotusspeech.org.au