Home Asia Pacific Oceania Australia


Monks scatter sands of mandala
By ELLEN VAZ, Orange Yourguide, 5 April 2005
Molong, Australia -- GRAINS of sand and the chants of Tibetan Buddhist monks were carried away by the wind yesterday in a ceremony symbolising impermanence.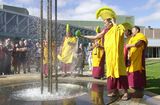 << IMPERMANENCE: Buddhist monks pour sand from the Manjushri sand mandala into the water during yesterday?s dissolution ceremony in a ritual to bring harmony and peace to the world. Photo: STEVE GOSCH
Their Manjushri sand mandala, an intricate artwork of coloured sand created at Orange Regional Gallery over six days, was swept away during the dissolution ceremony.
The ceremony marked the end of the seven monks' time in Orange, a stop on their Sacred Footsteps Tour to raise money for a hospital in India.
The monks created the mandala as a symbol of the cycle of life and death and to generate positive energy. In Tibetan Buddhism, the mandala also symbolises the energy of a perfect world and is contemplated during meditation.
Using copper funnels filled with crushed dyed marble, the monks poured sand onto a board to create a beautiful design. During the dissolution ceremony, some of the sand from the mandala was poured into water.
It is believed that water carries the healing energies of the sand mandala throughout the world.