Home Arts & Culture


High on art
Hindustan Times, September 8, 2012
Leh, Ladakh (India) -- The Mahabodhi International Meditation Centre (MIMC), Leh-Ladakh, is witnessing a peculiar noise these days, owing to a unique weeklong festival called The International Festival of Buddhist Heritage of Ladakh that started on Tuesday.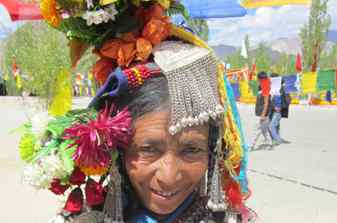 << A Ladakhi woman at the festival. HT Photo
Different forms of arts, ranging from wood carving, woollen
weaving, painting and traditional food form a part of the festival showcasing Buddhist heritage.
With visitors from India and around the world, the sparsely inhabited mountainous region is now the centre of 'art' attention. Shares one of the artists, Savang Zor, a carpet knitter, "These hand-knitted carpets take 15-20 days to make and are sold at almost R4,000 a piece."
And, these traditional arts take up years of learning, as is revealed by Konchok Chospel, another artist and a teacher of wood carving. "Our Central Institute of Buddhist Studies is the only one in India that teaches traditional art forms, where a six-year course can be taken up after Class 10."
Other fascinating aspects of the festival include the exhibition of the talents of a blind man, Lundup, who entertains visitors with a commentary on India-Pakistan cricket match, apart from playing a flute from his nose.
There is also a group of ladies calling itself Traditional Ladakhi Food, a 5,000-strong women's alliance that is self-dependent and hard working. Bhikkhu Sanghasena, founder president, MIMC, Leh, plans to hold the event on a larger scale next year, "to help restore the ancient culture of Ladakh."