Home Arts & Culture


'Mandala' Buddhist paintings rarely seen by public set to go on display
By TOMOYOSHI KUBO, Asahi Shimbun, October 25, 2014
KYOTO, Japan -- Two rarely shown painted "mandala" that depict the Buddhist universe will go on public display at Toji temple, a World Heritage site, on Oct. 31.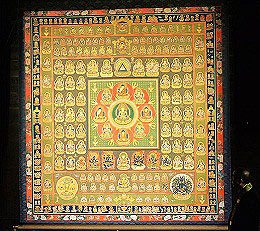 << The "Taizo-kai" mandala painting (Noboru Tomura)
The "Ryogai Mandala-zu" (Paintings of mandala of two realms) that date to 1693 were shown to the media on Oct. 24. They are being exhibited in the temple's Kanjoin hall as part of the "Kyoto Hikokai Bunkazai Tokubetsu Kokai," a special event to display cultural properties that are rarely displayed.
A total of 18 locations, including temples and shrines, will take part in the exhibition.
It will be the first time that the two "Ryogai Mandala-zu" will be shown to the public in the Kanjoin hall.
The two works are designated by the government as an important cultural property. They were originally used in a secret ritual by the Shingon Mikkyo (an esoteric Shingon Buddhist sect).
One is titled "Kongo-kai" (diamond realm) and the other is "Taizo-kai" (womb realm). Both are 4.1 meters high and 3.8 meters wide.
During the media preview, they were illuminated by about 40 light-emitting diode (LED) lights. The LEDs, made by Kyoto-based Rohm Co., do not emit ultraviolet radiation or heat that can damage fragile artworks.
The Kyoto Hikokai Bunkazai Tokubetsu Kokai event will run until Nov. 9. Dates will differ depending on location.
The Kyoto Heritage Preservation Association is among organizations that arranged the showing. The Asahi Shimbun is also one of the sponsors.