Home Arts & Culture


Guinness dreams for largest sand art
The Star, June 7, 2005
Georgetown, Penang -- Malaysians are seeking to enter the Guinness Book of World Records for making the largest sand painting. The mandala, measuring 24m by 16m, was completed in 72 hours by 90 volunteers, most of them from SMK (C) Heng Ee, at the Chee Hoon Khor Moral Uplifting Society premises in Jalan Macalister.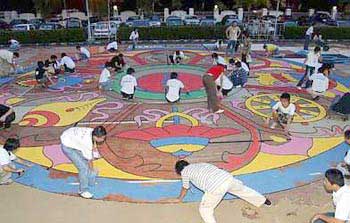 The organisers hope the artwork will beat the current record holder, a 12 by 12m mandala created by the monks of the Golden Pagoda Buddhist Temple in Singapore last year.
The latest mandala, made up of 10 tonnes of coloured sand with motifs of the eight auspicious signs - the parasol, fish, vase, conch, victory banner, glorious knot, lotus and wheel - was blessed by Tibetan monk Lho Bhongtul Rinponche.
The sand was later distributed among devotees while some will be sprinkled over the sea tomorrow as a blessing for victims of the December tsunami.
The event was kicked off yesterday by Rinpoche with the help of Hong Kong actor-comedian Eric Tsang. Other highlights of the event were the offering of 20,000 oil lamps, the recitation of prayers, blessings, charity sales and vegetarian cooking classes.
Organisers hope to raise RM400,000 for charitable organisations.