Home Arts & Culture


Photo show displays ancient Japanese monk's pilgrimage
Xinhuanet, Jan 9, 2006
BEIJING, China -- A photo exhibition about an ancient Japanese monk's pilgrimage to China during the Tang dynasty (618-907) opened Monday in downtown Beijing.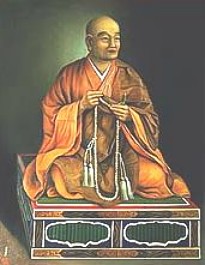 The three-day exhibition displays 125 pictures taken by Virginia Stibbs Anami, wife of Japanese ambassador to China Koreshige Anami. She spent almost five years on tracing the route of Ennin.
During an official visit to China about 1,200 years ago, Japanese monk Ennin traveled with an ambassadorial delegation to many famous temples in China's Jiangsu, Shandong, Hebei, Shanxi and Shaanxi provinces with an aim to study Buddhism from China's great scholars and abbots.
During his trip, Ennin kept a diary named "Record of a Pilgrimage to China". The diary is a unique first-hand glance into Tang politics, economics, culture, Buddhism and people's lives.
Virginia Stibbs Anami said she hopes her photo show will remind audiences of Ennin's peregrinations, help promote Japan-China cultural exchanges and enhance the friendship between the two peoples.
Biography
Japanese Tendai Buddhist Ennin or Jikaku Daishi, was the abbot of Mt Hiei monastery. He travelled widely in Tang China as a pilgrim and member of an official embassy, keeping an accurate diary which recorded impressions of careful bureaucracy, strong government, advanced social development, prosperity, and a resplendent aristocracy and court. The diary is a major source on Tang China, and superior to Marco Polo's later portrait of the Yuan period. (From: Allbiographies.com)