Home Arts & Culture


Buddhist Fellowship stages musical ahead of Vesak Day
By Asha Popatlal, Channel NewsAsia, May 7, 2006
Singapore -- It's a musical about the importance of family and unconditional love. With Vesak Day just around the corner, these values were espoused in a performance entitled "Opening The Door Of Your Heart" which kicks off on Sunday.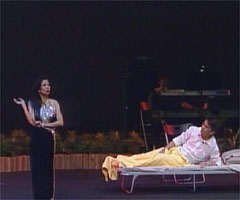 Guest-of-Honour at the show was Health Minister Khaw Boon Wan, fresh from his victory in Sembawang GRC on Saturday night.
The musical show has a 30-man cast complete with musicians, soloists and actors including MediaCorp artiste Nick Shen.
It consists of 4 plays adapted from the book, "Opening The Door of Your Heart", by Ajahn Brahm. Making a special appearance is the author himself.
One of the stories being staged is about a man with four wives - who realises on his deathbed the ones he ignored are the ones who really loved him.
Another play is about a leader from a group of seven women who is forced at gun-point by robbers to choose one person from amongst them to be sacrificed.
The performance, organised by the Buddhist Fellowship, is held at the Victoria Theatre till May 9.