Home Arts & Culture


Melodies from Japan
The Telegraph, Nov 25, 2004
Calcutta, India -- A traditional Japanese Buddhist chant performed by the clergy at temple ceremonies, Shomyo originated in India before spreading to countries like Japan and China where it was developed as a means of studying mantras and bijas of esoteric Buddhism.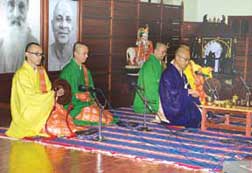 Today, it enjoys worldwide recognition as a symphonic art form and is extensively performed in concert settings. Silent Bird (picture left), the percussion and Shomyo chant performance, offers music enthusiasts the opportunity to experience some of the finest shomyo compositions rendered to the accompaniment of percussion.
Conceived and directed by Takada Midori, the first part of the show comprises her solo recital, featuring works of internationally renowned composers. Influenced by the syntax of Western music while remaining true to the technique, structure and sensibility of Asian music, Midori?s presentation expresses the wealth of traditional Asian culture within a modern context.
The second part, comprising shomyo chants supported by percussion effects, is based on the eternal conflict between life and death. The voice and words of the chant, combining with sound vibrations created by percussions, create a dynamism that provides the perfect ambience for unraveling the universal mysteries of body and mind.
Organised by :Consulate-General of Japan in Calcutta.
Event: Silent Bird; a percussion and Shomyo chant concert
When: Today at 6 pm
Where: Rabindra Sadan