Home Arts & Culture


Famed sand sculptor carves snow Buddha in Japan
IANS, Feb 8, 2007
Sapporo, Japan -- Sand artiste Sudarsan Patnaik has created a sculpture of Lord Buddha on snow in Japan while participating in an annual international snow festival.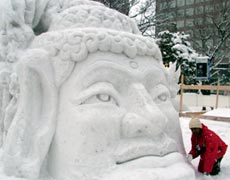 Patnaik, who was the lone Indian participant, said Thursday he had created a face of Lord Buddha at Sapporo city where the 34th International Snow Contest had begun Feb 3. Eighteen countries had participated in the event.

'The height of the image I created is 10 ft and it took me over 48 hours, to make it,' Patnaik told IANS from Japan over phone. The image was captioned 'Budhha for World Peace', he said.

'I chose to create the image of Buddha because my home state has several Buddhist sites,' said Patnaik, who belongs to the coastal town of Puri in Orissa.

'This is not the first time I created an image on snow. I did snow sculptures twice, including that of the Taj Mahal,' said the artiste who has participated in 31 international sand sculpture championships across the world.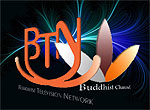 Get your Korean Buddhist News here, brought to you by BTN-Buddhist Channel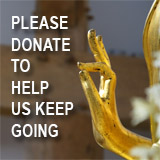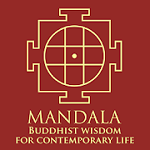 The Mandala app brings together Buddhist wisdom and meditation techniques with the latest insights of psychology and neuroscience to handle the challenges and complexities of modern life. The App offers a series of engaging talks and conversations with experts on a wide variety of topics, such as managing stress, dealing with adversity, developing greater resilience, cultivating empathy and compassion, creating healthy relationships, and many more. These topics are explored to help find greater peace, meaning and joy in our lives. Our panel of experts include Dr, Thupten Jinpa, Daniel Goleman, Kelly McGonigal and others.FREE DOWNLOAD here

Point your feed reader to this location


Submit an Article
Write to the Editor