Home Arts & Culture


New Gallery for V&A's Renowned Collection of Buddhist Sculpture
Happy News, JANUARY 9, 2009
London, UK -- The V&A will open The Robert H. N. Ho Family Foundation Gallery in April, the first gallery for Buddhist sculpture in the UK.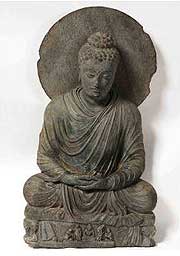 The new day-lit gallery will display highlights from the V&A's world class collection of Buddhist sculpture ranging from monumental Chinese temple sculptures to tiny portable gilded Buddhas.
On display for the first time will be an early surviving image of the meditating Buddha (c.300 AD) from North West India and a 17th-century gilded figure of the saviouress Tara from Nepal.
Around 50 sculptures created by master craftsmen between AD 200 and 1850 will be shown in the new gallery to explore how the Buddha has been represented in Asian art.
The Gallery will tell the story of the life of the Buddha and the spread of Buddhism from India to the other regions of Asia. The sculptures will be arranged in geographic groupings demonstrating the diversity of artistic expression throughout Asia and will reflect the differing Buddhist practices of India, Sri Lanka, the Himalayas, Burma, Java, Thailand, China and Japan.