Home Arts & Culture


The V&A unveils the first Buddhist gallery in Britain
by Louise Jury, This is London, April 27, 2009
London, UK -- THE first gallery in Britain dedicated to Buddhist sculpture opens in London this week at the Victoria and Albert Museum.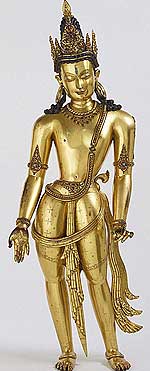 It will enable the V&A to show its world-class collection of such works. More than half have never been seen or have not been on show for decades because of a lack of space.
Highlights include a rare shrine from Burma not seen for 30 years. It is thought to have belonged to the royal palace in Mandalay. There is also the Bodhisattva Padmapani, one of the finest surviving 14th-century Nepalese Buddhist images in the world, and a stone head from a vast temple complex in Xiangtangshan in China. Pieces date from AD200 to 1850.
The works will be shown in a museum context, although there will be seating to allow visitors to view them meditatively.
The main backer of the development has been a family foundation dedicated to promoting Buddhism. But curator Dr John Clarke insisted that the funding from the Robert H.N.Ho Family Foundation had not influenced its displays.
Cultural artefacts from many faiths are presented as part of the V&A's educative mission, not to promote religion, he said. The gallery opens on Wednesday. Admission is free.