Home Asia Pacific Oceania New Zealand


Buddhists give away $100,000 of goods
Stuff, Jul 18, 2011
Christchurch, New Zealand -- The Tzu Chi Buddhist community gave more than $100,000 worth of food, blankets and torches to Linwood College's school community on Saturday.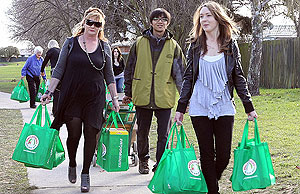 << GENEROUS AID: Kay Triggs, left, and daughter Kourtney leave Linwood College with donated goods, assisted by a Tzu Chi volunteer.

Fulltime Tzu Chi volunteer Thomas Shum said about 2300 winter-care packages were handed out at the school.

More than 30 members of the Tzu Chi community travelled from Auckland to help with the giveaway, which included three truckloads of food and 100 school jackets.

"We just want to let them know they are not alone," Shum said.

This was the sixth time the Buddhist Compassion Relief Tzu Chi Foundation had helped out in Christchurch since the February 22 quake.

The foundation had spent more than $400,000 helping people in Christchurch's eastern suburbs, he said.

The money had been donated by the foundation's New Zealand members. It was also distributing more than 6000 blankets sent to New Zealand from the foundation's Taiwan base.

The foundation plans to return to Christchurch next month to help out.

All the volunteers paid for their flights to get to Christchurch and for accommodation, so all money donated was spent on charity, Shum said.