Home Asia Pacific Oceania New Zealand


Buddhist monk beaten unconscious
3News, 17 Aug 2013
Auckland, New Zealand -- A 58-year-old Buddhist monk has been beaten unconscious and left tied up on the floor of the Quan Am Buddhist Monastery south of Auckland.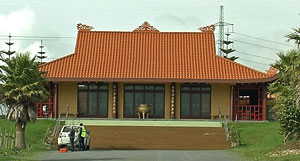 Police were called to the temple on Beaver Rd, Bombay at about 8:40pm yesterday after the monk phoned them for help.
Three offenders smashed down a door and assaulted the monk before binding him with handcuffs.
They continued to assault him until he was unconscious and stole property from the temple before escaping.
The monk is in hospital suffering from several fractures and a significant head injury.
Police said it was a vicious and unprovoked attack.
"It is a particularly nasty attack on a harmless monk from the temple."
They are appealing for anyone who saw any suspicious vehicles in the area to come forward.
They are interested in a blue 2000 Mazda Capella hatchback registration ESJ401.