Home Asia Pacific Oceania New Zealand


Dalai Lama speaks in Auckland
TVNZ, Dec 5, 2009
Auckland, New Zealand -- Tibetan spiritual leader the Dalai Lama has addressed more than 1000 people at Auckland's Vector Arena on the subject of A Peaceful Mind.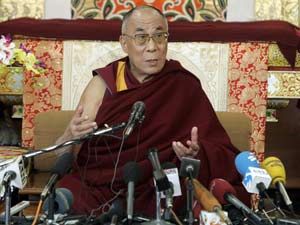 << Source: Reuters - Tibetan spiritual leader Dalai Lama speaks during a news conference on the occasion of the 50th anniversary of a failed uprising that prompted his flight into exile in India
In New Zealand at the invitation of the Tibetan Buddhist community, he will hold a teaching session at the same venue on Sunday.
Labour leader Phil Goff held talks with the Dalai Lama on Friday after he arrived in the country.
But Prime Minister John Key chose not to meet him, noting they had met before and there was no need for another meeting.
Key has denied being pressured by China not to meet the Dalai Lama, but said in November "We would understand the way the Chinese would deal with these things, but on the other side of the coin that wasn't the over-riding factor."
China, which has occupied Tibet since 1959, objects to senior political leaders meeting the Dalai Lama, as he represents opposition to China's occupation of Tibet.
The Dalai Lama fled into exile in India after an abortive Tibetan uprising in 1959, nine years after Chinese troops marched into the Himalayan region.