Home Asia Pacific South East Asia Myanmar


World Buddhist summit wraps up in Myanmar
Daily Times (Reuters), Dec 13, 2004
YANGON, Myanmar -- A world Buddhist summit of more than 1,000 monks from as far apart as Jamaica and Japan ended in Myanmar on Saturday with promises to strive harder to spread the 2,500-year-old religion?s central theme of harmony and goodwill.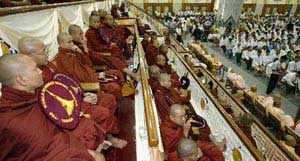 ?We will contribute to bringing about peace and prosperity in the world by spreading the Buddha?s sublime message of loving kindness,? the Venerable Bhaddanta Silanandabhivamsa, a top monk in the former Burma, told a closing session.
The summit, which opened in the military-ruled southeast Asian nation on Thursday, attracted controversy because of the junta?s reported persecution of some monks and its detention of democracy icon and opposition leader Aung San Suu Kyi.
One major Japanese Buddhist sect, which had been due to provide much of the funding for the three-day meeting, pulled out in November amid concerns over Myanmar?s human rights record.