Home Asia Pacific South East Asia Thailand


Buddhists from 80 countries join 'World Vesak Day' at Mahachulalongkornrajavidyalaya University Ayutthaya
NNT, May 12, 2014
AYUTTHAYA, Thailand -- Leaders of Buddhism from 80 different countries around the world have joined the world Vesak Day Celebration, held at Mahachulalongkornrajavidyalaya University, Ayutthaya Province.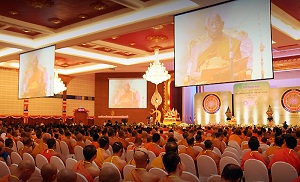 Acting on behalf of the patriarch, H.H. Somdet Phra Maharatchamongkhalachan, presided over the world Vesak Day celebration, which was attended by chiefs of Buddhism from 80 countries around the world.
As the president of International Council of the United Nations Day of Vesak (ICUNDV), Dr. Phra Dharmakosajarn, Rector of Mahachulalongkornrajavidyalaya University (MCU) in Thailand, on this occasion, said Vesak Celebration has for years been held to celebrate the Lord Buddha's birthday and his enlightenment as well as commemorating his passing; it is also considered an international celebration day.
Meanwhile, H.H. Somdet Phra Maharatchamongkhalachan said that Vesak Day is important for Buddhists around the world: moreover, the UN has designated this day as one the world's most important days, during which many religious activities are held.