Home Asia Pacific South East Asia Thailand


Monks calls for Buddhism to be made national religion
TNA, June 20, 2005
BANGKOK, Thailand -- Over 100 monks and 500 laypeople marched outside the parliament today, calling on the government to make Buddhism Thailand?s official national religion.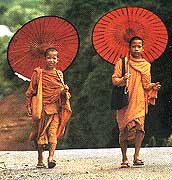 << Thai monks
Led by Phra Thepwisutkawi, assistant abbot of Wat Rachathivas and the secretary-general of the Buddhist Protection Centre of Thailand, the protestors submitted a petition to Senate Speaker Suchon Chaleekrue to urge that the constitution be changed to include their demands.
According to Phra Mahacho Thassaneeyo, one of the core members of the Buddhist Protection Centre, the centre wants to see the words ?Thailand has Buddhism as its national religion? included in the constitution.
However, he stressed that the centre had no wish to force adherents of other faiths to convert, and noted that Thailand is an open society when it comes to religious affiliation.