Home Asia Pacific South East Asia Thailand


Bid to reinvigorate Thai Buddhists
The Star (AFP), November 12, 2004
BANGKOK, Thailand -- The Thai government plans to launch a Buddhism public relations offensive, officials said yesterday amid a rash of savvy commercials by evangelical Christians in the majority-Buddhist kingdom.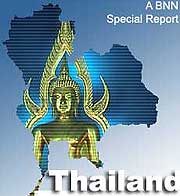 Describing current Buddhist awareness campaigns as ?obsolete,? Thailand's religious affairs department said one million baht (RM93,100) would be handed to public relations experts to develop cutting-edge ways of promoting the national religion.
?There have been many changes in Thai society and we need to study and adapt the ways we teach people about Buddhism,? department director Preecha Kantiya said.
?We will use more television and radio to get through to the youth,? he said.
Preecha said the new campaign had been spurred by growing materialism caused by Thailand's booming economy and denied it was a knee-jerk response to an ongoing high-profile television campaign by evangelical Christians.
That campaign, reportedly generating two million calls to a Christian hotline, has caused uproar across the country and even drawn criticism from a Thai Protestant umbrella group which said the commercials were too ?blunt? and could potentially damage religious relations.
The government has ruled out banning advertisements encouraging conversion to Christianity, saying Buddhism could stand on its own if properly promoted, according to Thai media.