Home Asia Pacific South East Asia Thailand


Temple replica changes sought
Bangkok Post, Jan 20, 2005
Chiang Mai, Thailand -- A local administrative organisation in Lampang has demanded that a five-star hotel in Chiang Mai make changes to its replica of a temple in its compound which has drawn firece protests from local people.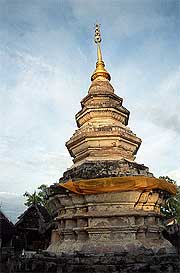 << Hotel temple replica said to to resemble revered Wat Lai Hin in Chiang Mai, Thailand
The demand was submitted at yesterday's meeting between representatives of the Mandarin Oriental Dhara Dhevi hotel, located in Chiang Mai's San Kamphaeng district, and the tambon administrative organisation (TAO) of Lai Hin.
Protesters say the hotel's replica resembles Wat Lai Hin, a revered temple in Lampang, in every detail. It was built without the temple's permission, and that was an insult to Buddhism, they said.
The TAO yesterday demanded the hotel remove or modify certain features of the replica which make it closely resemble Wat Lai Hin, including the top part of its gate portal, a chedi located behind the replica, a decorative design on the front balcony, and a coconut-shaped gate.
The demanded changes were being studied by architects of the hotel, said deputy TAO chairman Nares Duangchai after the meeting.