Home Asia Pacific South East Asia Thailand


Monks protest public listing of brewery
The Star (Malaysia - AFP), March 19, 2005
BANGKOK, Thailand -- Thousands of chanting Buddhist monks assembled outside Thailand's stock market headquarters yesterday to protest the planned public listing of the brewer of the country's best-selling beer.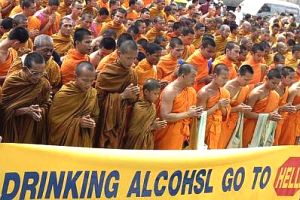 << UNITED AGAINST BEER: Buddhist monks chanting during their protest against the planned public listing of Thai Beverages outside the Stock Exchange of Thailand in Bangkok. - AFPpic
The 2,000 monks, draped in orange and brown robes, submitted a letter to the Stock Exchange of Thailand (SET) opposing the listing of Thai Beverages Ltd, which produces Chang Beer and Mekhong Whisky among other products.
The letter lamented the ill effects that alcohol had on society, in particular the surging number of alcohol-related deaths from road accidents and the rising trend of underage drinking, Thai television reported.
Academics also have urged the SET not to rush into approval of Thai Beverages' listing application.
?Thai Beverages should not be allowed to list on the SET as long as the government fails to control distribution of alcohol among teenagers and doesn't enforce alcohol consumption laws,? researcher Duenden Nikomborirak of Thailand Development Research Institute said in the Bangkok Post.
The listing would be a first by a local liquor company, and its rival Boon Rawd Brewery ? the country's oldest ? had plans to follow suit, the English-language daily reported.
The SET's board will make a final decision on Thai Beverages' listing on Wednesday, it said.