Home Asia Pacific South East Asia Cambodia


A Buddhist ruin
The Asian Age, 7 Jan 2013
Siem Reap, Cambodia -- Ta Prohm is the modern name for one of the temples of Angkor, Cambodia. Built in the Bayon style, largely in the late 12th and early 13th centuries, it was founded by the Khmer King Jayavarman VII as a Mahayana Buddhist monastery and university and was originally called Rajavihara.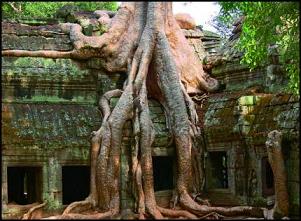 The temple got swallowed up by the jungle and remained forgotten till it was discovered again in the 19th century.
This most romantic of Angkor temples, it is a double-moated royal monastery that Jayavarman VII dedicated to his mother in the form of Prajnaparamita, the female form of Avalokiteshvara (Prajnaparamita symbolises Wisdom, as Avalokiteshvara symbolises Compassion).
Unlike most Angkorian temples, Ta Prohm has been left in almost the same condition in which it was found. The atmospheric combination of trees growing out of, and over, the ruins and the jungle surroundings make it one of Angkor's most photogenic temples.
There are many things that one can see at Ta Prohm - from great trees tower and delicately carved reliefs on the walls to moss and creeping plants.
Another popular site is the "Tomb Raider tree" in the central sanctuary, where Angelina Jolie picked a jasmine flower and was sucked beneath the earth.