Home Asia Pacific South East Asia Vietnam


Dalai Lama expresses sadness over Vietnamese Buddhist leader's demise
Phayul, April 4, 2014
DHARAMSHALA, Tibet (China) -- Tibetan spiritual leader His Holiness the Dalai Lama has on Tuesday expressed his sadness over the passing away of Vietnamese Patriarch Thich Tri Tinh. Thich Tri Tinh was the first Supreme Patriach.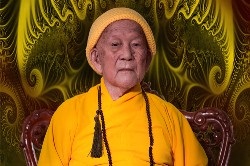 Dalai Lama also offered prayers for the Patriach and conveyed his condolences to the Patraich's followers in Vietnam and elsewhere. Tinh died on March 28 at the age of 97.
In a letter to the National Vietnam Buddhist Sangha, His Holiness wrote, "The best way to pay tribute to him would be to do whatever we can to implement the Buddha's message of inner peace, non-violence and compassion in our own lives."
Born in 1917 in the Mekong Delta province of Dong Thap, Thich Tri Tinh took positions as First Deputy Patriarch and Chairman of the VBS Executive Council, and Deputy Chairman of the Vietnam Fatherland Front (VFF) Central Committee.
He made significant contributions to gathering Buddhist followers in and out of the country to jointly build a strong Vietnam Buddhist Sangha.
He was conferred with a number of noble distinctions of the Party and State, including the Ho Chi Minh Order, Independence Order (first class), and Great National Unity Order.