Home Asia Pacific South East Asia Vietnam


Construction of Buddhist Institute starts in Ha Noi's suburb
VNA, Feb 27, 2005
Ha Noi, Vietnam -- Work on construction of a Buddhist Institute started in Ha Noi's outlying district of Soc Son on Feb. 27. The institute is the third of its kind in Viet Nam, with one already open in Ho Chi Minh City and one in Hue city.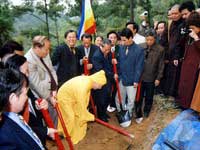 The Viet Nam Buddhist Institute will include a great pagoda, a 10,000-seat hall and smaller lecture halls, dormitories, a guest house, a car park, a stadium and gardens, covering 11 ha of land. Once completed, the 200 billion VND (12.7 million USD) institute will be able to enrol around 2,000 trainees.
Addressing the ground-breaking ceremony, Most Venerable Thich Thanh Tu, Vice Chairman of the Executive Council of the Viet Nam Buddhist Sangha and Director of the Viet Nam Buddhist Institute, expressed his hope that with the support from the State and contributions from businesses and Buddhist followers, the Institute will soon be able to meet the training needs of monks and nuns.
Tu said that a Buddhist high school will be built in the southwestern region in the future. He noted that the Ha Noi Buddhist high school was set up in 1981 when the Viet Nam Buddhist Sangha was established. The school has trained 520 monks and nuns.