Home Asia Pacific South East Asia Vietnam


Largest statue of Buddha unveiled in Lam Dong
Vietnam News Agency, March 21, 2005
Hanoi, Vietnam -- A monastery in the tourist town of Da Lat of Lam Dong province held a solemn ceremony Friday, Mar. 18, to inaugurate the largest ever statue of Buddha in Vietnam.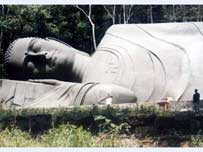 Van Hanh Zen Monastery, unveiled the 24 meter high statue with the lotus-shaped lamp support reaching 20 meters.
The ferro-concrete statue, which is located on a prominent hill in Dalat, is covered with a layer of white cement and gypsum.
Construction for the Buddha started in April 2002 funded with Buddhist contributions totaling over VND1.2 billion. The steel frame inside the statue was cast on site, not assembled as previous statues.
The statue is not only a sacred place of worship for Buddhists, but also an architectural construction of high artistic value.