Home Asia Pacific South East Asia Malaysia


Thousands of Buddhists turn up at blessing ceremony in Malaysia
By WANI MUTHIAH , The Star, November 25, 2012
SHAH ALAM, Selangor (Malaysia) -- Chants and prayers filled the air at the Shah Alam Stadium as thousands of Buddhists took part in a mass blessing ceremony organised by the Malaysian chapter of the internationally-renowned Taiwan-based Mahayana Buddhist monastic order Fo Guang Shan.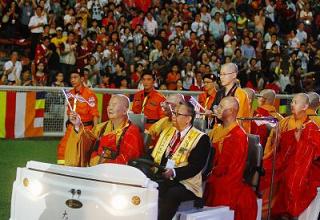 << It's about faith: Ven Master Hsing Yun (front, with mini flag) being driven round the stadium during the blessing ceremony.
The order's founder, Venerable Master Hsing Yun, who also established the Buddha's Light International Association, presided at the gathering that was dubbed the Buddhist Cultural and Dharma Blessing ceremony last night.
Fo Guang Shan is the largest Buddhist monastry and one of the biggest charity organisations in Taiwan while the 85-year-old Hsing Yun is said to be one of the most influential Buddhist monks in the world.
He is on a five-day visit to Malaysia and had called on Prime Minister Datuk Seri Najib Tun Razak on Friday and presented him with a Chinese calligraphy tilted Ji Xing Gao Zhao, which means "Auspicious Star Shining High Above."
The evening's event, which started at around 7pm and ended about three hours later, was aimed at strengthening the faith of Buddhists and to propagate divine qualities taught by Buddha.
Graphic design graduate Angu Lim, 22, said just seeing the Master was a blessing.
"They say he won't come here again. I am lucky to have the opportunity to hear him speak," she said.