Home Asia Pacific South East Asia Malaysia


Ajahn Brahm on South Malaysian tour
By CHUAH BEE KIM, The New Straits Times, Apr 12, 2013
JOHOR BARU, Malaysia -- BRAHMAVAMSO Mahathera, popularly known as Ajahn Brahm among the Buddhist community, will be in Johor Baru from April 29 to May 2.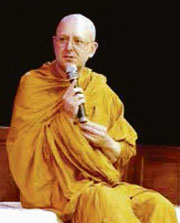 << ENLIGHTENING: The well-known monk will speak on a variety of topics and also lead a one-day meditation session
Ajahn Brahm, who was born Peter Betts in London in 1951, will be staying at the Metta Lodge Buddhist Centre at No 26 in Jalan Rengas in Melodies Garden here.
He studied theoretical physics at the Cambridge University in the late 1960s. Upon graduation, he taught in a high school for a year before travelling to Thailand to become a monk.
He will give a talk titled "Why Are We Born?" and "What Is The Purpose Of Our Lives?" at the Metta Lodge on April 29 at 8pm.
On April 30, there will be a breakfast dana (an event where devotees contribute food to monks) at the Metta Lodge at 6.30am, followed by a one-day meditation retreat for 50 people.
The meditation session will start at 9am and end at 5pm. This will be followed by a talk titled "What Happens When We Die?" at the Grand BlueWave Hotel in Johor Baru at 8pm.
On May 1, there will be a talk titled "Meditation for Frustrated Yogis" at 9am. There will be another talk titled "Offerings to the Departed and Hungry Ghosts" at 8pm. Both the talks will be held at the Metta Lodge.
On May 2, Ajahn Brahm will head to the Kota Tinggi Forest Meditation Centre and a lunch dana will be held there.
He is scheduled to be back at the Metta Lodge in the evening.
For details , call 07-332 5500.