Home Asia Pacific South East Asia Malaysia


MISSING MH370: Tzu Chi foundation provides emotional support
Bernama, Mar 9, 2013
BEIJING, China -- Fifty volunteers of the Buddhist Tzu Chi Foundation, among them 15 Malaysians, are ready to provide emotional support and care to families of passengers of a missing Malaysia Airlines (MAS) aircraft.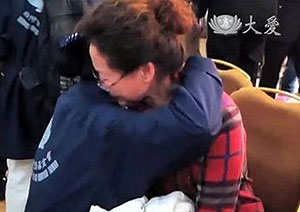 Zeng Yunji, spokesperson of the Beijing-based Taiwan Buddhist Foundation, said they were all prepared to provide emotional assistance for the passengers' loved ones.

She said that apart from Malaysians and Chinese, the volunteers of the team included those who came from the United States and Singapore.

"We will give as much as assistance we can to the families," she told reporters outside the Lido Hotel here where the next-of-kin of the passengers are being accommodated.

Zeng said the foundation communicated with MAS officials before engaging in the volunteer work.

Meanwhile, the Malaysian volunteers from Tzu Chi and those from the MAS 'Go Team' declined to comment when approached by reporters.

The MAS 'Go Team', comprising 93 caregivers and volunteers, arrived in Beijing Saturday night to provide emotional support and assistance to the family members of the passengers.

MAS Flight MH370, carrying 227 passengers, including two infants, and 12 crew, went missing en route from Kuala Lumpur to Beijing about an hour after taking off from the KL International Airport at 12.41 am Saturday.

It should have landed here at 6.30 am on the same day.
Watch News Report from Daai.tv (Video in Chinese)