Home Asia Pacific South East Asia Malaysia


Buddhist groups and temple celebrate CNY with song and dance
The Star, 17 February 2016
Penang, Malaysia -- IN the spirit of Chinese New Year, Than Hsiang Temple together with 34 Buddhist organisations organised a grand celebration at SMJK Phor Tay in Jalan Sungai Dua, Penang.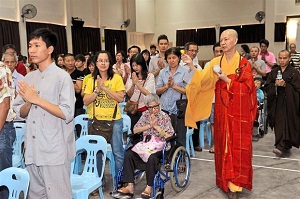 << Ven. Wei Wu walking around the school hall to bless the people at the celebration.

The celebration started with a colourful lion dance followed by a thumping performance of 24 Festive Drums.

Than Hsiang Temple monks then performed a blessing service and temple abbot Venerable Wei Wu enlightened a 1,000-strong crowd with Dharma teachings.

He also shared some personal life experiences with them.

The recent event continued with choir singing and dancing.

Ven. Wei Wu said SMJK Phor Tay was the only Buddhist school in Malaysia and every year, they would collaborate with Buddhist organisations to celebrate Lunar New Year.

"Education is not only important forsuccess but also for religion.

"It is more than just gaining knowledge. Our goal is to reinforce moral and religious values among the new generation.

"Than Hsiang collects about RM2mil a year through donations which come mainly from the public," he said.

The money is used to help run the four Phor Tay schools, organise religious activities and to aid charities.

Also present was Bayan Baru MP Sim Tze Tzin.