Home Asia Pacific South East Asia Malaysia


Sacred Buddha relics on show
The Malay Mail, April 4, 2005
KUALA LUMPUR, Malaysia -- An exhibition of relics from the Buddha and his chief disciples is the highlight of the Maitreya Project Heart Shrine Relics Tour showcases launched yesterday.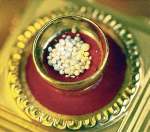 Buddhists believe that the sacred relics are extraordinary pearl-like deposits, often found in the ashes of cremated Buddhist spiritual masters.
It is said that these relics are formed as a result of the spiritual realisation of compassion and wisdom, and that viewing them enables one to accumulate merit and contribute peace to the world.
Part of ?The Great Refuge and Maitreya Tour?, the exhibition is being held at the Thean Hou Temple. It is organised by the Losang Drag- pa Buddhist Society (LDC).
LDC director M. Jayabalan said this was the second time the Maitreya Project Heart Shrine Relic Tour was making its appearance in the country.
?All are invited to the exhibition, where they will get blessings to strengthen one?s faith.?