Home The Americas US Northeast


A Mandala?s Meaning
by Allison Cogbill, Colby Magazine, Jan 27, 2006
Waterville, ME (USA) -- Thousands of people flocked to the Colby College Museum of Art in October to view the "painting" of a work of art that was destroyed almost as soon as it was completed.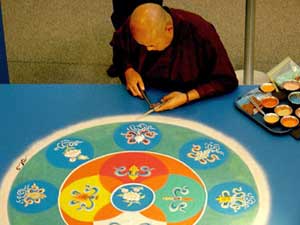 << Tibetan artist Losang Samten adds colored sand to a mandala he created in the Colby College Museum of Art. - photo by: John Meader
Over five days, Tibetan artist Losang Samten carefully created a sand mandala on a platform in the museum. Often joined by students, staff, faculty, and residents of greater Waterville, Samten engaged onlookers with stories and reflections on the Buddhist philosophy that underlies the ancient practice of sand painting. It is a ritual he has repeated many times in past decades, creating mandala sand paintings for the Metropolitan Museum of Art, the American Museum of Natural History, and the Philadelphia Museum of Art, among many others.
The Colby painting, composed with grains of colored sand, featured circles representing principles of Buddhist belief, and a circle at the work's center, representing compassion. At the end of the week, Samten and onlookers swept the sand from the painting into a jar and, with an entourage of admirers in tow, prayed and then poured the sand into Johnson Pond.
With that reminder of the temporal nature of life and beauty, Samten went on his way.