Home The Americas US Northeast


The Dalai Lama to visit Ithaca, October 9-10
The Ithaca Journal, April 17, 2007
Three public events will be held at Cornell University, Ithaca College and the State Theatre
Ithaca, New York (USA) -- His Holiness the 14th Dalai Lama of Tibet, Tenzin Gyatso, will visit Ithaca, Oct. 9-10. His Holiness the Dalai Lama is the spiritual and temporal leader of the Tibetan people and winner of the 1989 Nobel Peace Prize. His last visit to Ithaca was in 1991.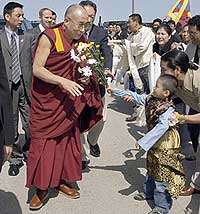 << The Dalai Lama (file pic)

This visit is being coordinated by Namgyal Monastery Institute of Buddhist Studies, which is the North American seat of His Holiness' personal monastery, Namgyal Monastery in Tibet. The main purpose of this visit is for His Holiness to view and bless the site of the new Namgyal temple complex currently under construction off Route 96 in the town of Ithaca.
The new monastery has been named The Land of Kalachakra Study and Practice by His Holiness who has closely overseen the plans.

Three public events at Cornell University, Ithaca College and the State Theatre of Ithaca have been scheduled for His Holiness to share Buddhist teachings and philosophy. Tickets are required to attend the events, and the prices and sale dates will be available later. Further announcements will follow. Preliminary details of the three public events are as follows:

Tuesday, Oct. 9:
His Holiness will deliver a public address at Cornell's Barton Hall from
2 to 4 p.m. entitled "A Human Approach to World Peace." His Holiness will discuss how individuals can adopt practical measures to create a peaceful, compassionate society and acknowledge the increasing interdependence of the world.

Wednesday, Oct. 10:
His Holiness will lead an interfaith session entitled "Prayers for World Peace" at the State Theatre of Ithaca from 10:30 a.m. to noon. This event will include multi-faith denominations from local religious chapters, including Namgyal Monastery Institute of Buddhist Studies, which provides the Buddhist chaplaincy at Cornell.

Wednesday, Oct. 10:
His Holiness will teach one of his personal favorite Dharma text of the mind training (lojong) genre, "Eight Verses for Training the Mind," from
2 to 4 p.m. at Ithaca College's Ben Light Gymnasium. This text provides a concise instruction on how to engage the world with compassion and optimism.
For more information, visit the Namgyal Monastery Institute of Buddhist Studies web site at <http://www.namgyal.org/>.