Home The Americas US Northeast


Planning Board Delays Decision On Buddhist Temple Expansion
WMTW Portland, February 12, 2008
BUXTON, Maine (USA) -- The debate over the proposed expansion of a Buddhist temple in Buxton continues, with no decision from town leaders as to whether it can move forward.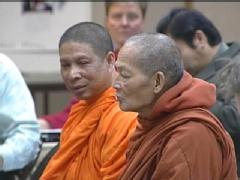 The Cambodian Buddhist Temple on Back Nippen Road already conducts ceremonies and serves as home for two monks. The temple wants to build a parking lot and expand to accommodate events and religious gatherings for up to 200 people.
Residents of the town have expressed concerns over traffic and noise.
The town's planning board on Monday night requested more specific information on the plan and plans to take up the issue again in two weeks.