Home The Americas US Northeast


Dalai Lama Coming To Rutgers This Fall
1010 Wins, Jan 10, 2005
New Brunswick, NJ (USA) -- The Dalai Lama is planning to speak at Rutgers University this fall.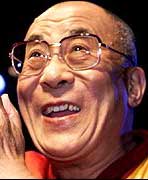 The school announced that the Nobel Prize-winning spiritual leader will deliver a lecture on war, peace and reconciliation.
The exiled Tibetan Buddhist leader spoke in New York City's Central park last year and has visited the Tibetan Buddhist Learning Center in Warren County.
Rutgers officials have been trying to arrange for a visit from the Dalai Lama for years. A few years ago he tentatively accepted an invitation but then had to cancel due to illness.
His tour this fall also will includes speeches at the University of Texas at Austin and Columbia University.