Home The Americas US Northeast


Maitreya Project Heart Shrine Relic Tour stops in Albany
Capital News 9, Oct 5, 2008
ALBANY, N.Y. (USA) -- The Maitreya Project Heart Shrine Relic Tour that's travelling the globe, made a stop in the Capital Region's backyard this weekend.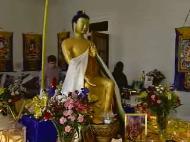 The Doane Stuart School in Albany hosted the event, which is a display of sacred relics, thought to embody the compassion and wisdom of Buddha.
Since 2001, the Maitreya Project tour has been raising money for educational and medical facilities in the impoverished northern Indian town of Kushinagar, where Buddha passed away.
"This is tremendously beneficial for people to be in the presence of relics like these. Any holy relic, when somebody's in the presence of that, they receive blessings for that, so in that way it's beneficial," one Relic Custodian told us.
The event opened with an interfaith ceremony on Friday. It's free and open until 7:00 p.m. Sunday for public viewings.