Home The Americas US Northeast


Buddhists Gather for Festival at Broome County
Fox40, June 27, 2010
Broome County, NY -- Broome County Buddhists are wrapping up their religious festivities tonight. They spent the weekend observing the most important annual holiday in Buddhist religion.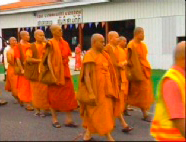 Before anyone enters the Buddhist temple, or begins a prayer here they must remove their shoes.

"It's a form of respect," said Vince Insixeingmay, a Buddhist.

Once you're inside, tapestries cover the walls, statues of Buddha adorn the alter, and people are praying with a special purpose.

"This religious ceremony today represents the life cycle of the lord Buddha," said Insixeingmay.

And they're not just honoring Buddha. Buddhists are also collecting one dollar bills to send to loved ones who have passed on.

"Have the monk bless the tree, in supposedly in our belief, that my father would receive the money that I am sending him today," said Insixeingmay.

Outside the temple, there's a stage set up for entertainment, and vendors selling toys and food.

Of all of the events here this weekend, people say that the parade is the most important part. They say it's a great way to honor Buddha.

"More like a reenactment for the life of the lord Buddha," said Insixeingmay.

The parade is led by monks, dressed in orange, nuns dressed in white, and other Buddhists who also want to pay tribute.

"For Buddhist religion, today is very huge." said Insixeingmay.Organizers here say they've raised about $6,000 from ticket sales to the festival, the money will go to fund projects near the temple.