Home The Americas US Northeast


Cambodian religious leader Ros Mey dies at RI temple
by Karen Ziner, Providence Journal, Dec 14, 2010
PROVIDENCE, RI (USA) -- Venerable Ros Mey, Buddhist monk and president of the Wat Thormikaram of Rhode Island -- the first established Cambodian Buddhist temple in the United States -- has died Sunday at the temple, surrounded by his family and temple members.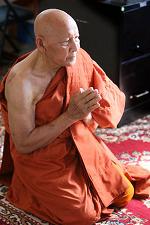 He was 85, and is believed to have died of natural causes, according to John C. Chea, vice president of public affairs for the temple. Mey's death was confirmed by the Carpenter-Jenks Funeral Home in West Warwick.
Mey was a survivor of the Cambodian holocaust that claimed up to 3 million lives, including one of his sons and three daughters. He was ordained a monk in 1993.
Memorial services are being conducted daily at 5 p.m. at the temple, at 178 Hanover St., Providence. A wake and funeral services will begin at 3 p.m. on Thursday and continue through 2 p.m. on Sunday.