Home The Americas US South


Buddhist Temple Vandalism
News Channel 5 Network, July 4, 2005
Fireworks were used to vandalize a Buddhist Temple in South Nashville.
Nashville, TN (USA) -- Several explosive devices were thrown through the windows of the Temple overnight. One exploded near the altar. Police have notified the FBI and they're investigating the case as a possible hate crime.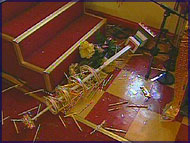 << South Nashville temple vandalized
The monks say some local kids are probably to blame. The kids have caused problems before. The monks say they need help from police to keep the peace.
Fortunately, no one was inside the Temple when the fireworks exploded. But the monks say the kids have thrown rocks through the windows before, during meditation.