Home The Americas US South


Teens charged with vandalizing Buddhist temple
AP, July 7, 2005
NASHVILLE, Tenn (USA) -- Nashville police have charged two 14-year-old boys with felonies after a Buddhist temple was vandalized.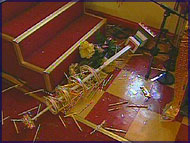 << Buddhist temple in Nashville vandalized
The Juvenile Court petitions say the boys used fireworks to create explosive devices which they threw through the windows of the Wat Lao Buddhapathip (waht low boo-dah-pah-TEEP') Temple on the Fourth of July.
They're cited with possession of a prohibited weapon and felony vandalism.
Police Chief Ronal Serpas (sur-PASS') called it a senseless act and says the department treats it seriously.