Home The Americas US South


Tibetan Lama to speak in Hattiesburg
Hattiesburg American, Nov 6, 2006
Hattiesburg, MS (USA) -- Tibetan Lama Pema Wangdak will speak at 11 a.m. Sunday at the Hattiesburg Unitarian Universalist Fellowship, 209 N. Hutchison Ave.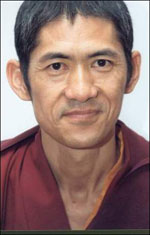 << Pema Wangdak
Wangdak was born in Purang in Western Tibet in 1954. His family escaped from Tibet in 1959 and eventually resettled in a refugee camp in Mundgod, South India. He is the only child of five in his family to have survived the escape.

Lama Pema has been a monk since he was 7. He is a student of His Holiness the Sakya Trizin and other great masters from the Sakya order of Tibetan Buddhism. He is a graduate of the Central Institute of Higher Tibetan Studies in Benares, India, in 1980 where he received his Acharya (master) degree.
Wangdak is the creator of "Bur Yig" – Tibetan Braille and the founder of The Pema Ts'al Monastic Institute in Pokara, Nepal, and the Pema Ts'al School in Mundgod, India. Lama Pema has been guiding western students for the past 20 years.
He continues to travel and teach extensively to Dharma centers around the world. His marvelous command of the English language and excelled wisdom and compassion make him and outstanding model in today's world.
For more information, call (601) 310-4594.
Source: Biographical information on Wangdak is from his Web site, www.paldensakya.org/lamapema.html.