Home The Americas US South


Dalai Lama gives lesson on Buddhism
AP, Oct 21, 2007
Atlanta, Georgia (USA) -- Several thousand people gathered Sunday morning at Emory University's gymnasium to hear the Dalai Lama offer an introduction to Buddhism as part of a weekend of events with the exiled Tibetan spiritual leader who has accepted a distinguished professorship at the prestigious private college.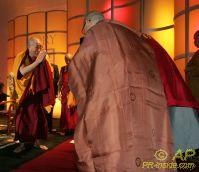 Speaking in both Tibetan and English, the Dalai Lama spoke from atop a wide, golden chair, flanked by Tibetan monks and followers of other types of Buddhism. He described being tutored starting at age six on Buddhist practices and philosophies.

"At that time, no interest," the Dalai Lama said, laughing. "When my tutor came, I used to feel like the sun was setting and it was getting dark. As a young student, I always preferred play."

Later in the day, he was to meet with leaders from other religions to talk about strategies to resolve conflicts peacefully.

The Dalai Lama's visit will also include a free public talk at Centennial Olympic Park in downtown Atlanta on Monday and lectures to the Emory community.

Laura Pavicevic-Johnston, 20, drove from New Orleans for the weekend of events with one of her professors. The Tulane University student visited the Dalai Lama's headquarters in Dharamsala, India, a couple of years ago, but the spiritual leader was out of town.

"I think it's amazing," she said of the Dalai Lama's visit to Emory. "Hopefully he will come back to Emory often."

On Saturday, Dalai Lama and researchers held a day-long symposium about the effects of Buddhist practices on depression.