Home The Americas US South


Irvington's Thai Buddhist Temple catches fire
by Catherine DuBose, MyFox Gulf Coast, Mar 23, 2008
IRVINGTON, Ala. (USA) -- The "Thai Buddhist Temple on The World" in Irvington caught fire Sunday around 10 a.m.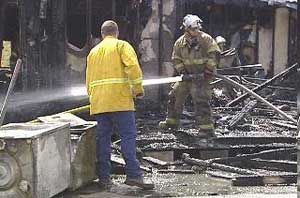 Firefighters tried to put out the fire from the inside but the building was fully engulfed in flames. The main building is a total loss and two other structures are damaged.
Chief Marvin Ladnier with the St. Elmo Fire and Rescue said although there is a total of three buildings that were damaged in the end the other two are repairable. He said that the other two buildings "have some heat damage from the heat from the fire."
The fire department was able to put the fire out in about 45 minutes.
Thankfully no one was injured in the blaze.