Home The Americas US Midwest


Indian Monks work on ancient sand painting in US
Press Trust of India/AP, June 28, 2005
Chicago, USA -- Buddhist monks from a monastery located in Karnataka worked for almost a week manoeuvring millions of grains of coloured sand into a sacred painting called a Mandala at the Chicago Cultural Centre.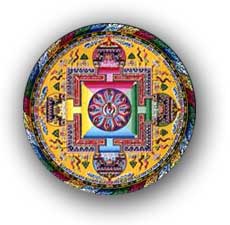 The eight monks from the Drepung Gomang monastery participated in the Buddhist ritual on the second stop of their nearly year-long sacred art tour. The fund-raising tour will take the monks to 16 US states and nine Canadian provinces.
To make the Mandala, an outline of a Buddha medicine pattern representing healing was drawn on a wooden platform about 5-feet square (about half a square meter). The monks performed the tedious task of moving the sand using a narrow metal funnel, called a Chakpur. They filled one Chakpur with sand and used another to scrape against it, creating a vibration that controlled how much sand was dispersed over the pattern.
Once completed, a Mandala is dismantled by sweeping the sand into little bags. Some of the bags will be offered to people as gifts, but the majority will be taken in a procession and dumped into the Chicago River.
?If people can come and see the Mandala and feel at peace that is a blessing,? Tsultrin Sherab, 32, one of the monks, said through interpreter Tanzin Dolma.
At the cultural centre, the curious filtered in and out of the room, gathering around the monks as they worked.
?I wanted to learn how they make the Mandala, such an intricate design,? said Reiko Goto, a research fellow at Carnegie Mellon.