Home The Americas US Midwest


Relics from Buddha on display in Indianapolis
IndyStar.com, Aug 12, 2006
Indianapolis, Indiana (USA) -- Relics from the cremated remains of the historic Buddha that are said to look like pearls and precious gemstones will be on public display this weekend at an Indianapolis monastery.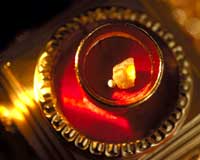 The Heart Shrine Relic Tour, a collection of items found in the cremains of 27 Buddhist masters, including the historic Buddha, will spend three days at the An Lac Temple, 5249 E. 30th St., starting with Friday's 3 p.m. opening ceremony.
Carmen Straight, a custodian of the cremains with the Foundation for the Preservation of the Mahayana Tradition, said Buddhists believe the unusual relics are a result of the high state of enlightenment the Buddha and the masters reached in their lifetimes. Straight said the historic Buddha lived 2,500 years ago.
The relics, which have been touring the United States since 2001, are scheduled to be placed in the heart of a 500-foot-tall bronze statue being built in Kushinagar, India. The statue, due to open in 2010, is being constructed to represent Maitreya, the fifth
Buddha who will eventually come as a messianic-like spiritual teacher to show people the path of virtue.
The relics will be on display from 3 to 6:30 p.m. Friday, 10 a.m. to 5 p.m. Saturday and 1 to 7 p.m. Sunday. There is no cost to see them. For information about the relics, visit www.maitreyaproject.org or call (317) 258-4504.