Home The Americas US Midwest


Wesak Festival held at Indiana Buddhist Temple
ColomboPage News Desk, June 12, 2007
Fort Wayne, Indiana (USA) -- A Wesak Festival was held on May 19 at the Indiana Buddhist Temple in Fort Wayne, Indiana, USA.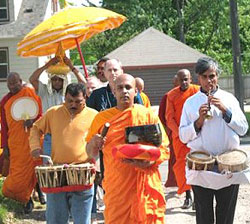 Among the participants were members of both Buddhist and non-Buddhist communities - Sri Lankans, Americans, Vietnamese, Burmese, Indians, Indonesians, and neighbors of the Temple on Webster Street in Fort Wayne.
The festival started with a colorful procession (Perahera). A large Wesak lantern was lit with 90 small satellite lanterns (Wesak kuduwa) accompanying it. A pandal that displayed the four symbolic encounters was another attraction. Dinner was served to all participants in a "dansala".
Venerable Thalangama Devananda Thera is the chief monk at the Indiana Buddhist Temple. The temple which opened in 2003 has hosted several religious and cultural events since its inauguration.