Home The Americas US Midwest


Buddhist buffet
Columbia Tribune, November 13, 2007
Columbia, Ohio (USA) -- Tibetan Monk Champa Lhunpo, a member of the Dalai Lama's monastery, held talks with students in George Frissell's Classical Ideas and World Religions class today at Hickman High School.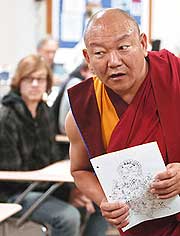 << Champa Lhunpo. Gerik Parmele photo
Lhunpo told the class Buddhism is becoming more popular because of its openness. It "goes well with other religions," he said, comparing religion to a buffet of choices.
His visit was part of Frissell's series of guest speakers, who also include Robert Baum, who provided information on indigenous African religions; Vellore Gopalaratnam, who explained Hinduism; and Philip Clart, an MU religious studies professor who plans to speak on Confucianism.