Home The Americas US Central


Keeping Buddhist Traditions Alive
by Mega Sugianto, 1011now.com, Aug 18, 2014
LINCOLN, Neb.(USA) -- Former South Vietnamese Army Captain, Ty Kieu was arrested during the fall of Saigon. He was imprisoned, placed into a concentration camp, and needed a way out.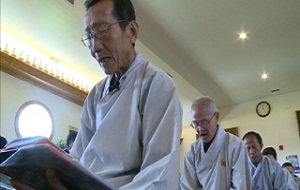 "We didn't have any family in the U.S," Kieu said. "We did not have anyone to sponsor us."
Kieu said he was thankful, because the Catholic Social Services in Lincoln sponsored his family and relocated them. Kieu, his wife, and children came to Nebraska on June 11, 1993.
Though they escaped Vietnam they had to leave their belongings, family, and friends behind.
"We had to start from scratch."
For more than 20 years Kieu worked blue collar jobs, often as a janitor at various companies.
Despite all obstacles, Kieu kept his life focused on religion.
"Buddhism," Kieu said. "It's apart of the Vietnamese cultural heritage and a way of life."
The Buddhist temple in southwest Lincoln is a gateway for those who immigrated to the United States to find a sense of belonging and community. On average, there are more than 100 members attending Sunday service.