Home The Americas US West


Temple ships shrine to Japan to make it shine
By TOM RAGAN, Santa Cruz Sentinel staff writer, April 8, 2005
Watsonville, CA (USA) -- The gold and high gloss altar, with its scrolls, lanterns and incense burning bowls, was bought by Japanese immigrants who labored in the fields of the Pajaro Valley nearly 100 years ago.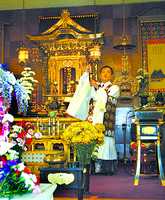 Today, the altar still stands at the Watsonville Buddhist Temple on Bridge Street, a little worn but otherwise intact.
Next week, however, it will be carefully dismantled by dozens of members of the temple and shipped to Kyoto, Japan, where it will undergo an intense refurbishing to honor the temple?s 100th anniversary.
It?s not going by plane. It?s going by ship, embarking from San Francisco. The face-lift will take about a year, and in the meantime a smaller temporary altar will be installed so that services can continue.
"I suppose we could go out and buy a brand new altar," said temple member Norman Uyeda, 60, a Japanese-American living in Watsonville. "But this altar has history. It has heritage. It has significance, and it?s going to be worth the cost."
The dismantling will begin Sunday, and the altar is scheduled to be packed by Monday. Though members did not want to disclose the cost of the repair work, some estimated hundreds of thousands of dollars.
For the Rev. Shousei Hanayama, resident minister of the temple, and the temple?s nearly 400 members and 260 families who have sought refuge in the altar just as their ancestors before them, cost is no obstacle.