Home The Americas US West


Seagal bares his heart and leaves his sole at children's hospital
By Jaime Griesgraber, Cape Times, May 12, 2005
Cape Town, South Africa -- Children buying trainers from the Red Cross Children's Hospital Heels of Hope programme have some very big shoes to fill - including those of Hollywood action star Steven Seagal.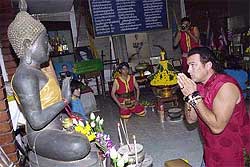 Seagal, who has been in Cape Town for several months filming Mercenary, visited the hospital and the Finkelela Children's Centre in Khayelitsha yesterday.
He handed over a pair of used shoes for the Heels of Hope programme, which aims to recycle 50 000 pairs, raising R250 000 for the hospital.
Dressed in a brown-and-gold silk mandarin jacket and accompanied by an entourage of 15 assistants, bodyguards and Buddhist monks, Seagal toured the hospital and met several children.
"My devotion to the children stems directly from my devotion to the Divine," Seagal said. "The Buddhist philosophy is to put others before ourselves."
Despite having just had a dose of chemotherapy, Jade Smith, 13, was all smiles when Seagal visited her in her ward.
She said she was a "big fan" and her favourite movie featuring Seagal was the 1990 hit
Hard to Kill.
The Red Cross Children's Hospital has 300 in-patients and treats "hundreds of thousands" of outpatients a year, according to its communications manager, Helen White.
Staff deal mostly with chronic diseases.
Michelle Edkins, a pain resource nurse at the hospital, spoke to Seagal about her work and said later that he had seemed very interested.
"I got a sense that (Seagal) understands a lot of the suffering these children are enduring," she said.